Your children at the heart of what we do –
with a smile
Our children describe their perceptions in their own words and with their own ideas. Listening to them in a trusting and attentive way is the cornerstone of treating of our little "customers". And since children often cannot be treated in the same way as adults, we put great emphasis on particularly gentle methods.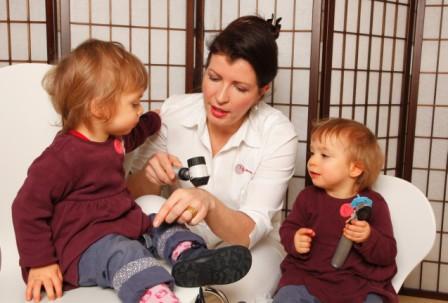 As a happy mother of twins, our doctor, Dr. Christina König, carefully focuses on giving proper care to her younger patients. During her previous training as a paediatric nurse, she experienced the needs and concerns of children of all ages on a daily basis – a huge advantage for our practice.
With us, your little ones can make it big.
All of our interactions with young patients are particularly empathetic and sensitive. This builds the foundation for an anxiety-free and successful treatment.
Our areas of priority in paediatric dermatology are:
Care of children's skin from infancy to the age of puberty
Acne in children and youths
Neurodermatitis and other forms of eczema, e. g. nappy rash
Allergies – resulting from environmental factors, animals & food
Skin rashes and skin itching
Birthmarks, skin cancer and sun damages in children
Haemangiomas or strawberry marks
Warts etc.